Professor Katherine Snyder, faculty director of Berkeley Connect in English, came up with the idea of scavenger hunts as a fun way for students to explore resources available to them on and around campus. Her brainstorm was a huge hit!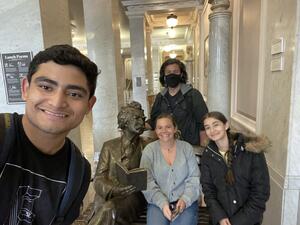 Fabiola Vazquez (pictured at right) says: "The library scavenger hunt has to be one of my favorite Berkeley Connect memories! Without this activity, I wouldn't have ever found Main Stacks and the secret passage that connects libraries underground! It was such a fun expedition and my group of peers was so creative and funny in figuring out the answers to the clues. With the scavenger hunt I learned more about the Berkeley libraries than I would have done by myself."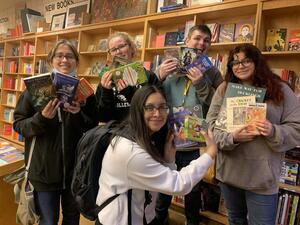 Andrew Patterson (pictured second from right) says: "Without a doubt, the recent journey to Moe's Books was my favorite Berkeley Connect moment….As a Bay Area resident since the age of two, it was heartwarming to discover my stomping grounds still have magical areas left unexplored. Even more so to see that wonder reflected in the eyes of my peers. The activity itself, however, was what really made the whole experience extraordinary…the scavenger hunt gave my group more opportunities to bond. For instance, when we took pictures with books relating to our nationalities, I learned I shared Irish blood with two of my classmates….this moment was emblematic of my entire Berkeley Connect adventure."
Berkeley Connect is a donor-supported program. To help Berkeley Connect reach more students, make a donation today!